Updated July 14, 2017 JH
Auburn Trail
9-miles one way, multi-use flat rail bed
September '16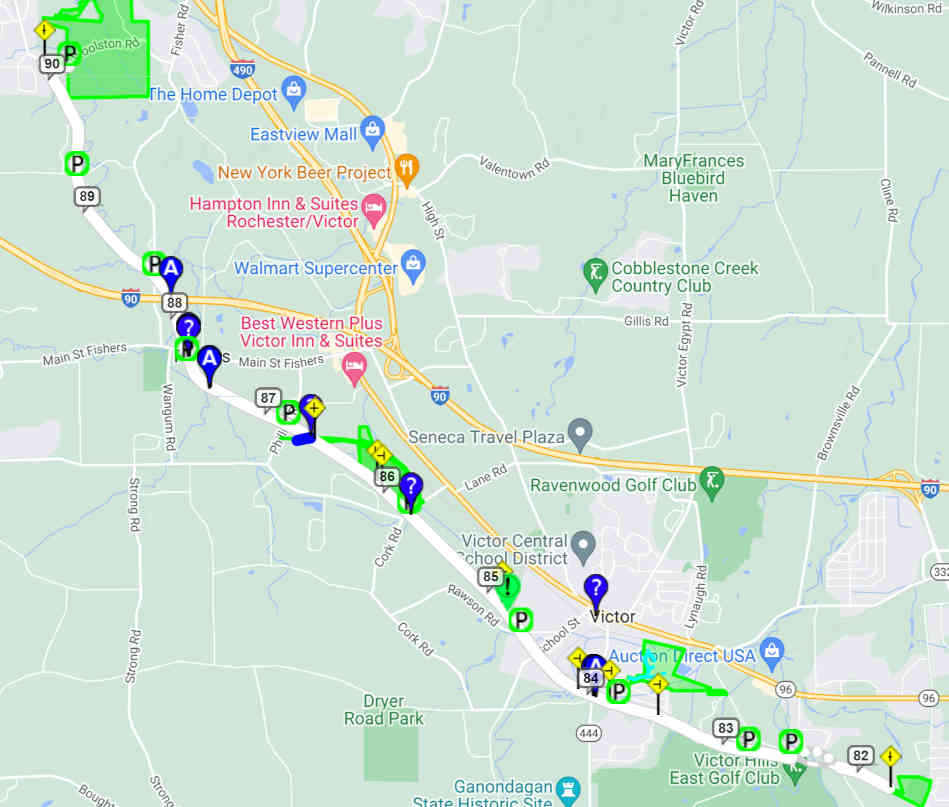 This is the major cross-town multi-use trail. There are a couple of sections that use road shoulders and sidewalks. There are foot-path only alternatives to these near the road sections.
This trail is mostly on the bed of, and named for, the Auburn and Rochester Railroad, also called The Auburn Road, which was first used in 1841. Later it was part of the New York Central. The section west of Victor Village closed in 1960, east in 1978.
From East to West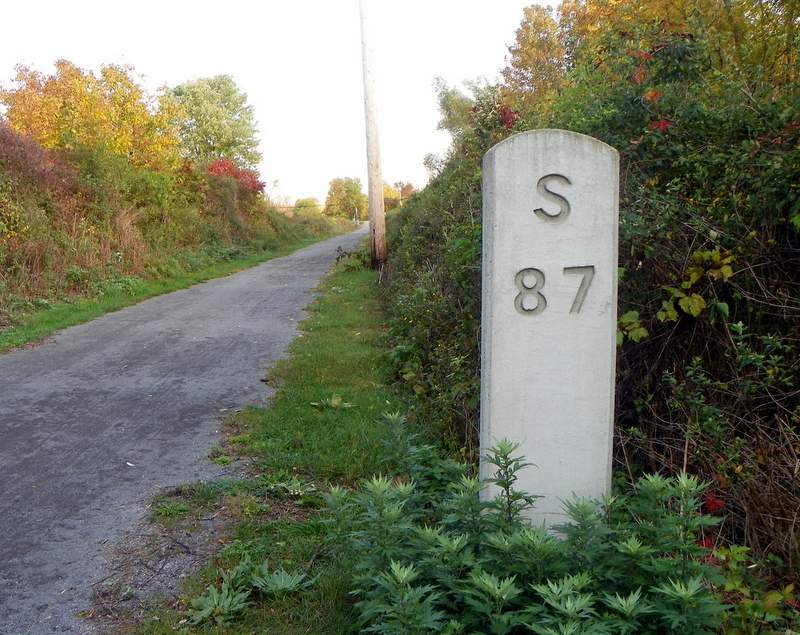 We go this way as the mile markers use the railroad system, which were measured from Syracuse. We use the old concrete "tombstone" markers. Two are original, and VHT has created the rest. They go from 82 near Farmington to 90 near Pittsford.
Farmington Line
Parking is available in Farmington's Mertensia Park.
Farmington has done an excellent job of the short section just over the town line. It goes from CR 41, Boughton Hill Rd, crosses Mertensia Rd, goes by the town park, with parking, to the town line. It is a 10-foot wide full multi-use trail with stone st surface. Farmington is extending the trail. As of Fall 16, it is under construction to NY332 and beyond. In later phases it will go into Canandaigua to connect with Ontario Pathways.
Farmington Line to East Victor Road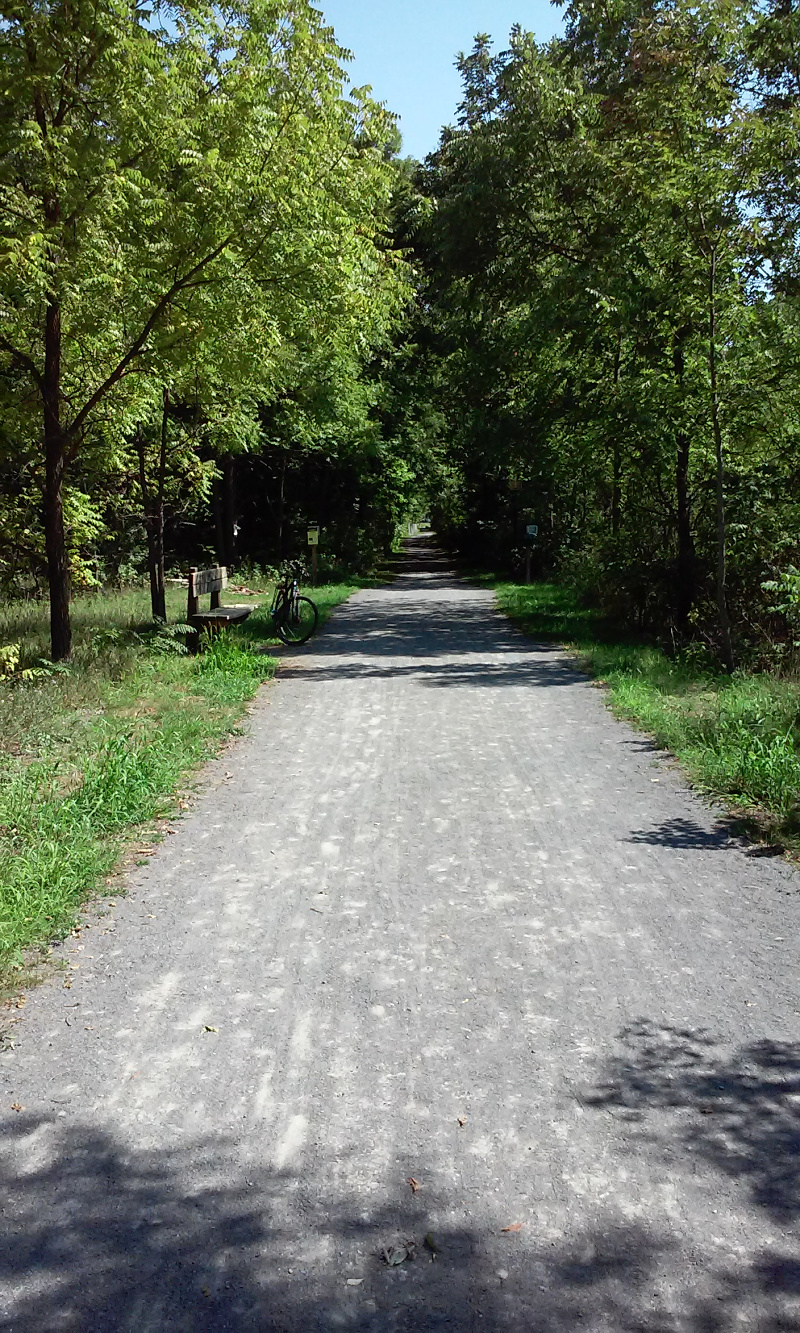 It is a 10-foot wide full multi-use trail with stone dust surface.
East Victor Road to Break Of Day Road
This section must use the road shoulders: be very careful.
Follow East Victor Road to the first intersection, Break Of Day Road. Then on Break Of Day Road will be our parking lot. There get back on the rail bed trail to Brace Road and beyond.
There is a foot-path only alternative. This has some steep hills, is too narrow and twisty between trees for bikes. As of September '16, this is closed for construction. Ultimately it will be the main trail. There is a stepping stone ford.
Break Of Day Road to Maple Street (444)
Crosses Brace Road and Ketchum St. (Proximity Ln.)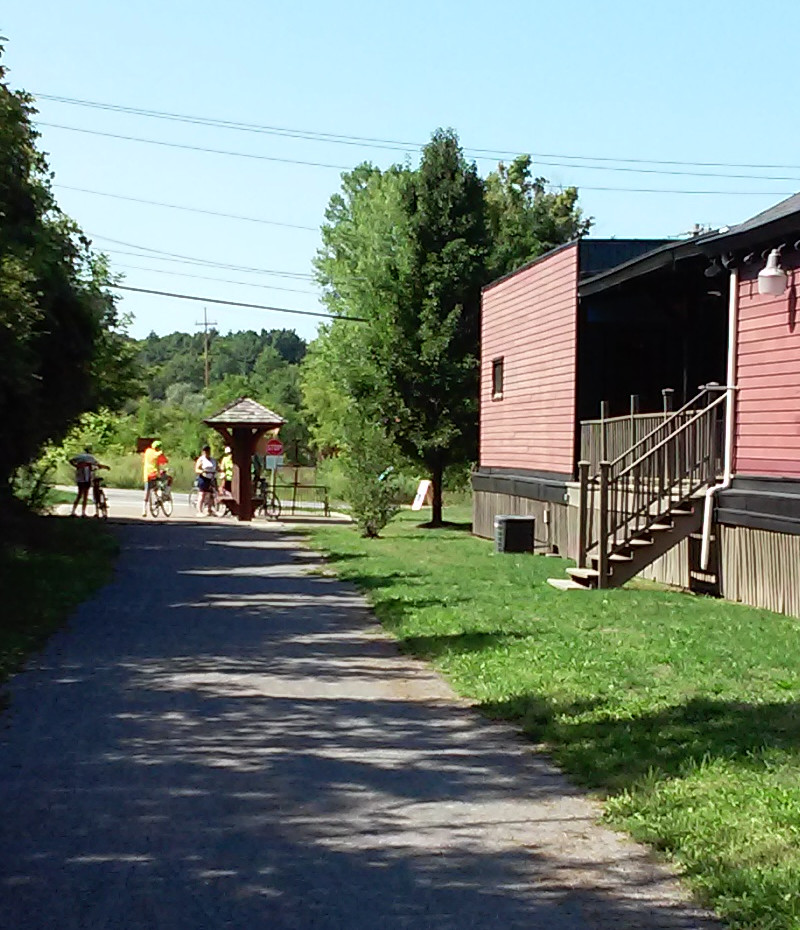 Small parking lots are at Break of Day and Brace Roads. A large parking lot is off of Maple St.
Fine stone dust surface, full multi-use, 10-feet wide. Spring shows a large bed of trillium alongside the trail. Mostly wooded section. The old Auburn Road passenger station is still here and used for retail space. A trail mini-park is at Maple St. with an information kiosk, benches, and an ornamental bike rack.
Maple Street, NY 444 to School Street
Here there is a three way choice.
The main trail is on Maple Street and sidewalk.

Maple Street - Be careful, there is heavy traffic.
Trolley Trail - This is a paved trail maintained by the Village of Victor
School Street - Here the trail is on the street and sidewalk.

A lower traffic alternative route is blazed yellow. Instead of Maple St., NY 444, it goes down the hill one short block to the east, on Coville St.

Coville St. which ends at East St.
Into and through the parking lot of Saint Patrick's Church
Trolley Trail and shortly after crosses Maple St. and rejoins the main Auburn Trail

A footpath only alternative is to use the red blazed Seneca Trail from Maple St. to School St. It is narrow in places and has a staircase one one hill.
School Street to Main Street Fishers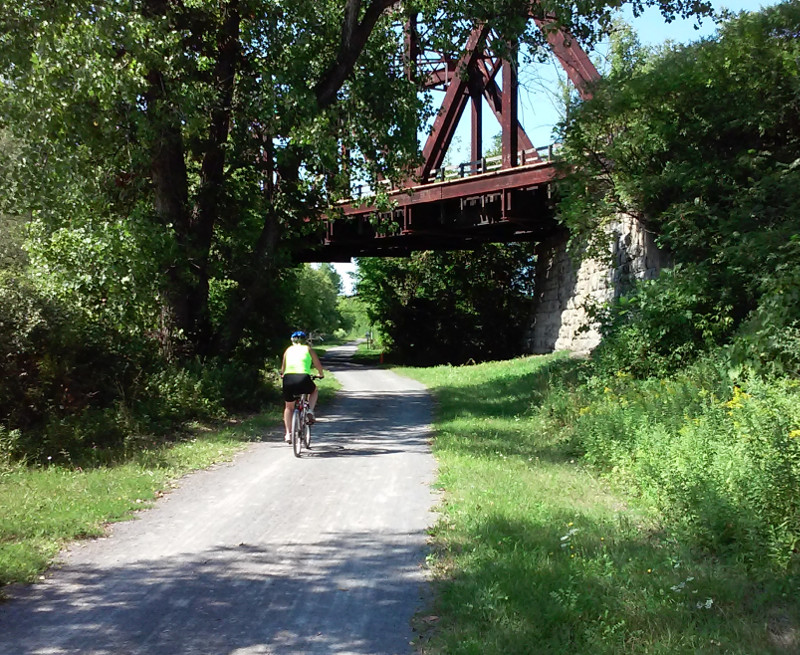 Crosses Rawson Rd, Seneca Trail, Victor Mendon Rd (NY 251), Lehigh Crossing Park, Lehigh Trail, Phillips Rd, and intercepts the Domine Trail. Has access to and from the Finger Lakes Community College Victor Campus. Parallels Trolley Trail for a ways.
Limited parking is available at Rawson Rd and on the shoulder of NY 251. There are larger parking lots in Lehigh Crossing Park off of NY 251 and Fishers Fire House No. 1 off of Fishers Main St. And a small parking lot on Phillips Rd, with a second one on Phillips Rd by the Lehigh Trail.
This is full multi-use trail with a fine stone dust surface, 10-feet wide. Neighboring properties range from Town Park to industrial storage yards. A branch of Irondequoit Creek parallels for some distance. The Lehigh Trail crosses on a large railroad truss bridge. Next to it is a full ADA compliant ramp to the Lehigh Trail.
The Seneca Trail goes north after the trail crosses Rawson Rd. The Trolley Trail, a footpath, parallels the Auburn Trail from that junction to Lehigh Crossing Park. And the Domine Trail foot path branches off and joins with the Lehigh Trail.
At the Domine Trail, is some of the Auburn Trail's artwork (see below). A trail mini-park is at the Fire House with an information kiosk, benches, and an ornamental bike rack.
In Fishers, next to the trail is the oldest standing railroad building in the country: a stone pump house. This was the first section of rail of what was to become the New York Central Railroad. The tracks were originally wood with an iron strap on top.
Main Street Fishers to Wolston Road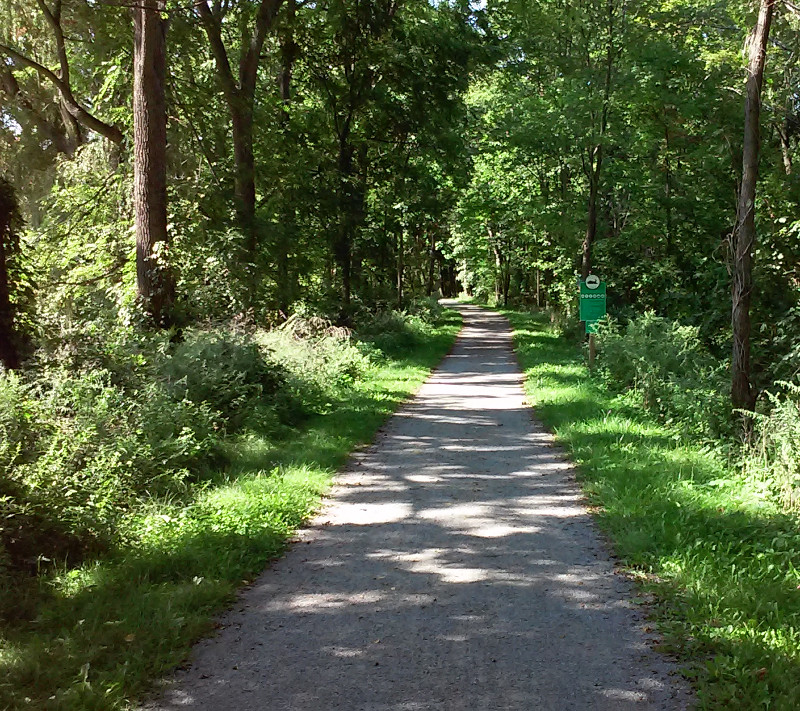 Crosses under the NY State Thruway, Fishers Rd, Railroad Mills Rd (at Probst Rd), and Barony Woods Rd. Also some driveways cross the section from Railroad Mills to Wolston Rd.
Small parking lots are at Fishers Rd, and Railroad Mills Rd (by Probst Rd.). A larger lot is in Powder Mills Park on Wolston Rd.
The surface is fine stone dust, 8-feet wide.
There are short sections of the trail in the towns of Perinton and Pittsford.
Includes two stone arch bridges over Irondequoit Creek, and a large underpass under the Thruway. This section did have a dangerously damaged bridge which was closed for about 20-years as VHT raised funds for restoration or replacement. It was a stone arch over Irondequoit Creek and was much eroded. It was replaced by a 90-foot long steel bridge in summer '11. The trail is mostly up on an embankment made for the rail oad. Much of this embankment was originally wooden trestle, like a bridge. Once the railroad was an established concern, stone, coal ashes, and dirt were dumped in and covered the wood, leaving the built-up embankment of today.
A pocket park is next to the new long bridge.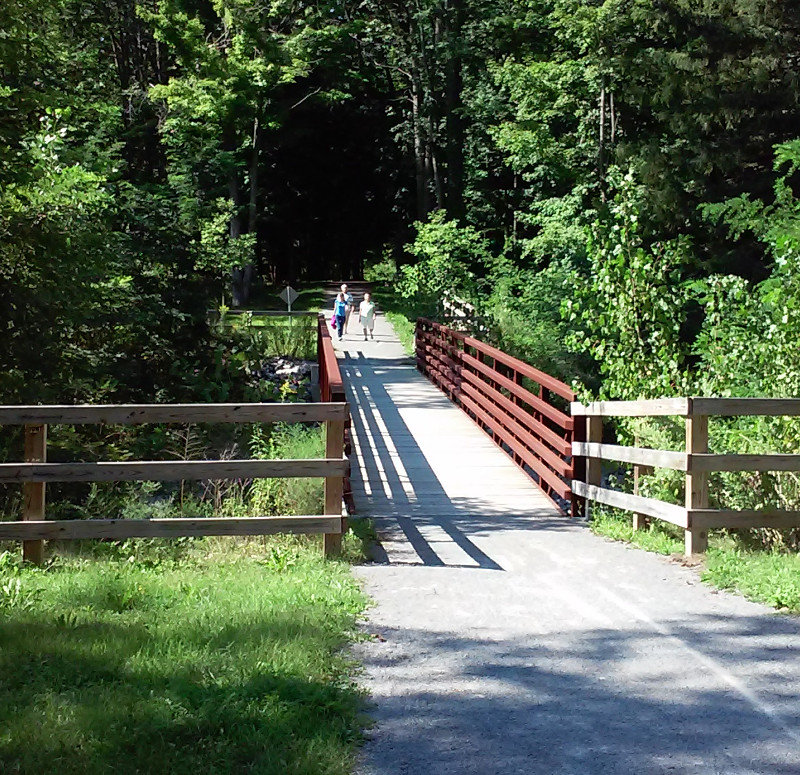 Along County Road 29, Wolston Road to Powder Mills Park
This is on expanded road shoulders, both sides of the road. Work was done in Summer '13.
Note: Bikes are permitted on the roads within Powder Mills Park, but not on the trails. The roads generally have little or no rideable shoulders. Powder Mills Park is a Monroe County Park.
Art Along the Auburn
The Auburn Trail is becoming Victor's Art Trail. There are two plazas with bike racks designed to look like a 1850's train steam engine and cow-catcher. One is by Maple Street in the Village, the other in Fishers. Near each of these is a concrete bench, made by VHT volunteers, modeled on benches used by the area railroads.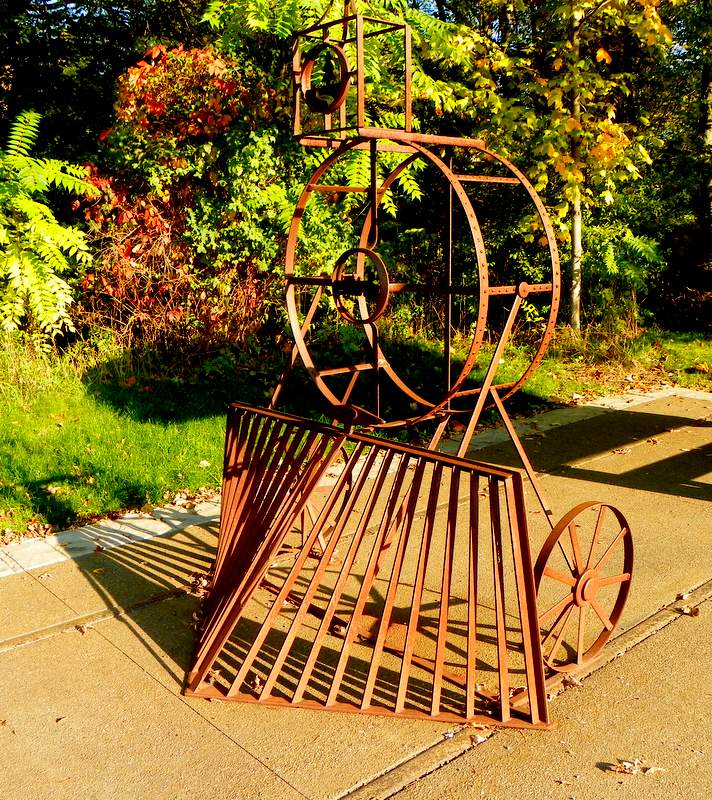 Across the trail from the Fishers plaza is a small "Waiting Shelter" that was originally used on the Rochester & Eastern Rapid Railway (now known as VHT's Trolley Trail). It has been moved to this location and restored by the Friends of the Railroad.
Recently two more pieces of art work have been donated. One is a "Trollette." She lives under the Domine Trail bridge which is just off the Auburn Trail, but she is often found standing by it. She is really quite a "camera hound," and loves to have her picture taken, often in the company of trail users.
There is also, not so prominently displayed, a wood carving of a salmon. A few salmon do get all the way up this branch of Irondequoit Creek each fall to spawn. Unfortunately, these are all stocked fish, and it is very unlikely that their genetic timing will ever happen to match the creek's flow pattern for both spawning and hatching which would be necessary to successfully reproduce.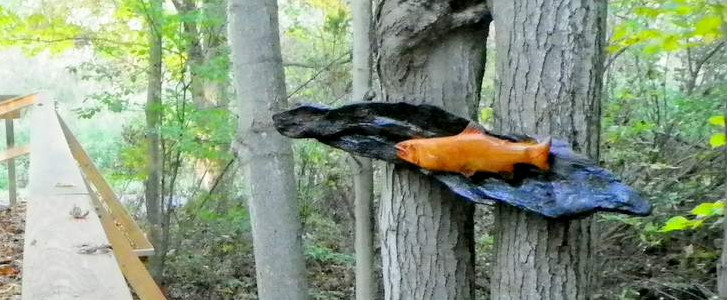 And there is a large mural in the Thruway underpass.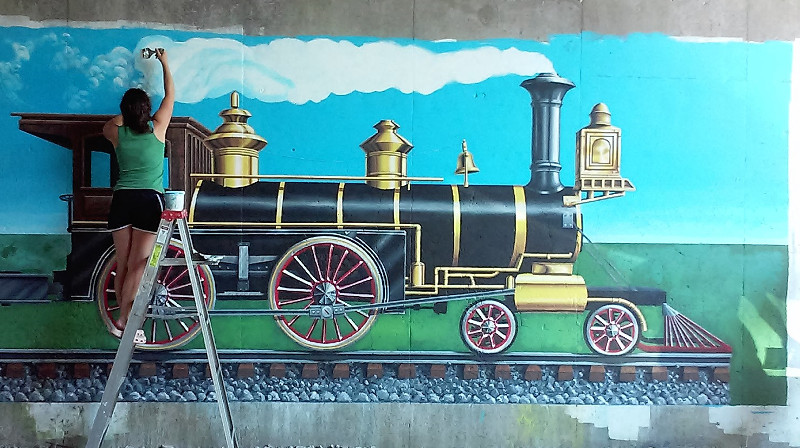 Plans
The towns of Pittsford, Farmington, and Canandaigua all have sections of the Auburn Trail open and other sections in the process of planning or construction with the goal of a continuous open off-road path that connects with many other area and state-wide trails.
Elevations and Distances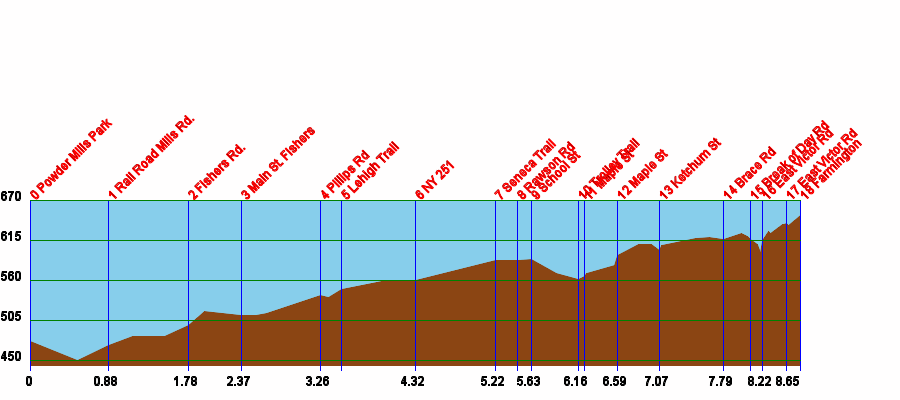 Caution: Elevations are from USGS. They are very precise, but not necessarily accurate. They may be from any place up to 100-feet from the trail!