On Sunday, October 28th, Victor Hiking Trails, Inc. (VHT) hosted an event on the Auburn Trail in Fishers, NY to dedicate the completed mural that was designed by Emily Waldman, a Pittsford resident and current graduate student at the University of Buffalo. With the help of her family, friends and many volunteers from the community, she has created a wonderful mural beneath the NYS Thruway overpass displaying a historical 19th century steam locomotive and accompanying railroad cars, titled "From an Idea to Iron". Her realistic painting style, in collaboration with historical references, illustrates a coal-fired steam-powered train coming from Rochester and heading to the historical Cobblestone Railroad Pump-house in Fishers, New York. Emily dedicated the mural to the memory of Nat Fisher, a life-long Fishers resident who was a VHT board member that spent many hours helping with the mural, but unfortunately passed away a few years ago.
Approximately 50 people enjoyed listening to Emily explain her artistic vision, the historical significance, and her stories of working on the mural. She thanked everyone for coming out on a chilly October afternoon and invited them to view the historical highlights depicted in the large 120 foot-long mural.
Below is a picture of Emily addressing the local Victor and Fishers residents who came for the dedication.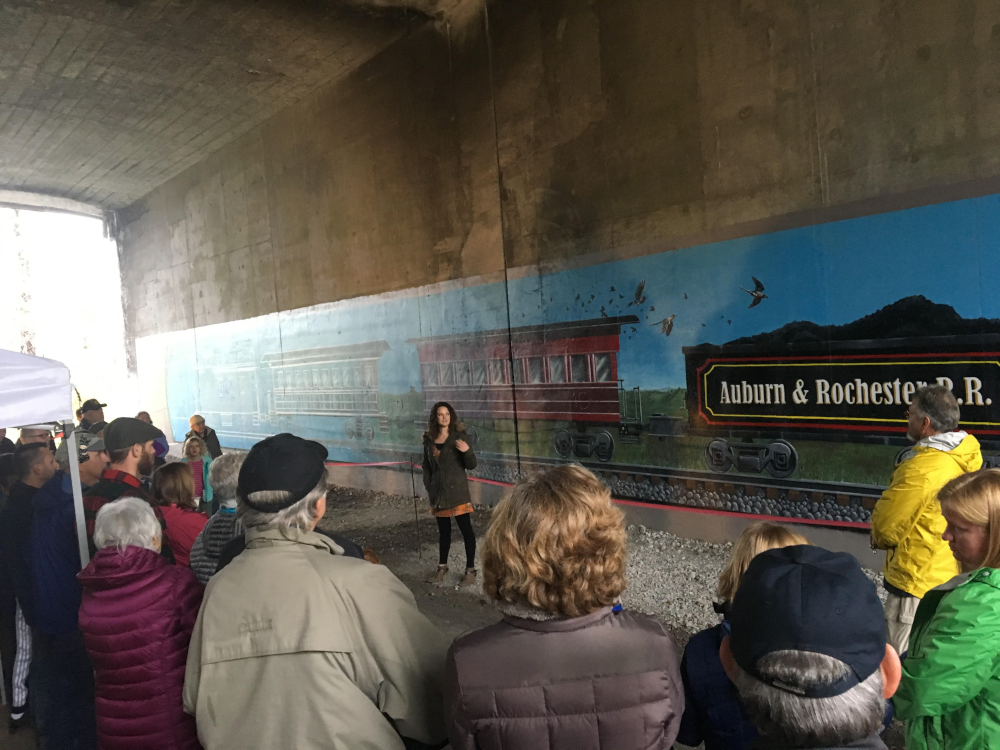 Photo credit: J. Waldman.